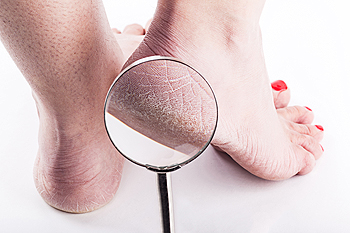 Heel fissures are cracks that can develop on your heels, causing pain and potentially leading to infection if left untreated. The root cause of heel fissures often stems from the skin's lack of moisture. This can be the result of several underlying conditions, including fungal infection, diabetes, psoriasis, and eczema. The development of heel fissures can be accelerated by other factors as well, such as prolonged standing, regularly wearing open back shoes, and obesity. Prevention tips include applying a rich, hydrating foot cream consistently to maintain soft and supple skin. This can help to prevent cracked heels from turning into fissures. Regular exfoliation of the heels with a pumice stone after bathing helps to remove dead skin cells and promote healing. Preventing heel fissures involves staying well-hydrated, opting for supportive footwear, and maintaining a healthy weight. In severe cases, especially for persistent heel fissures that may have become infected, it is suggested that you make an appointment with a podiatrist as quickly as possible.
If the skin on your feet starts to crack, you may want to see a podiatrist to find treatment. If you have any concerns, contact one of our podiatrists from Prince William Foot & Ankle Center, PC. Our practitioners can provide the care you need to keep you pain-free and on your feet.
Cracked Heels
It is important to moisturize your cracked heels in order to prevent pain, bleeding, and infection. The reason cracked heels form is because the skin on the foot is too dry to support the immense pressure placed on them. When the foot expands, the dry skin on the foot begins to split.
Ways to Help Heal Them
Invest in a good foot cream
Try Using Petroleum Jelly
Ease up on Soaps
Drink Plenty of Water
Ways to Prevent Cracked Heels
Moisturize After Showering
Skip a Shower
Keep Shower Water Lukewarm
Don't Scrub Your Feet
If you are unsure how to proceed in treating cracked heels, seek guidance from a podiatrist. Your doctor will help you with any questions or information you may need. 
If you have any questions, please feel free to contact our offices located in Gainesville and Dulles, VA . We offer the newest diagnostic and treatment technologies for all your foot care needs.
Read more about Solutions for Cracked Heels