Our Doctors
Mukesh Bhakta, DPM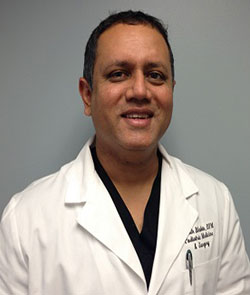 Mukesh Bhakta, DPM
Reviews
Dr. Mukesh Bhakta has been in private practice since August 2000. He established his own practice Prince William Foot & Ankle Center, PC in September 2006 and subsequently South Riding Foot & Ankle Center, PC in 2010.
Dr. Bhakta grew up in South Texas and pursued his undergraduate studies at The University of Texas. He received his Doctorate of Podiatric Medicine at the Dr. William M. Scholl College of Podiatric Medicine in 1998. He completed his residency training at The St. Louis VA Hospital, Scott Air Force base with some additional training at NNMC in Bethesda. He worked in private practice and trained with a larger group in the suburbs of St. Louis before relocating to this area to be closer to family.
Dr. Bhakta's particular areas of interest include podiatric sports medicine, injuries, and pediatrics. He has been playing sports and working out his entire life, (played tennis and basketball in high school) and obtained many of the acute injuries his patients often see him for. He knows how these injuries feel and what is best for recovery. He works closely with The Running Store (no affiliation) for proper shoe fitting and gait analysis and other local vendors.
Dr. Bhakta is board certified with the American Board of Multiple Specialties in Podiatry, Primary Care in Podiatric Medicine. He is also certified in Extracorporeal Shockwave Treatment. He is affiliated with UVA Prince William Hospital in Manassas, VA, as well as UVA Haymarket Medical Center in Haymarket, VA. He is the recipient of several awards including Washingtonian Magazine's Top Podiatrists, June 2012, and Northern Virginia Magazine's Top Doctors in 2015, 2016, 2019, 2020, and 2021.
Dr. Bhakta is married with two children in college. He has coached his son's basketball team and daughter's soccer teams. His wife is a Family Physician and Obesity Medical Specialist in Ashburn, VA. In recent years, Dr. Bhakta's form of exercise has shifted to running and cross-training, but he still enjoys playing golf and basketball. His hobbies include home improvement projects and traveling.
Education
Certification
Board Certified , American Board of Multiple Specialties in Podiatry, Primary Care in Podiatric Medicine.
Extracorporeal Shockwave Treatment
Memberships
Associate, American Academy of Podiatric Sports Medicine
Hospital Affiliations
UVA Haymarket Medical Center, Haymarket, VA
Licensures
Virginia Medical License (Podiatry)
Anam Ali, DPM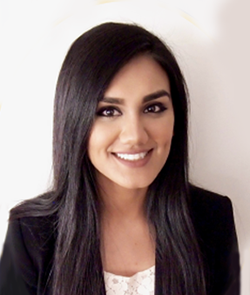 Anam Ali, DPM
Reviews
Anam Ali, DPM is a board-certified podiatrist and podiatric surgeon. She achieved a bachelor's degree in Psychology from the University of Virginia. She then attended Temple University School of Podiatric Medicine, where she graduated with a Doctorate of Podiatric Medicine in 2018. In 2021, Dr. Ali completed her postgraduate training with a three-year foot and ankle surgical residency at the Rubin Institute of Advanced Orthopedics/Veterans Affairs Maryland Health System where she was Chief Resident.
Dr. Ali has specialties in sports medicine, diabetic limb salvage, and minimally invasive bunion and hammertoe surgery. She is affiliated with several hospitals including UVA Prince William Hospital, Manassas, VA, as well as UVA Haymarket Medical Center, Haymarket, VA, and Stone Springs Hospital in Dulles, VA.
Dr. Ali is fluent in English, Urdi, and Punjabi.
Education:
Specialties:
Foot and ankle reconstruction
Diabetic limb salvage
Minimally invasive bunion and hammertoe surgery
Sports medicine
Hospital Affiliations
UVA Haymarket Medical Center, Haymarket, VA